The Military Career of Lt.(jg) Coit Hendley Jr. During the Invasions of North Africa, Italy, and Omaha Beach on D-Day: His Papers and Photos
Non-fiction : History
6.9x9.6/365pages/50photos/ 85documents.
Yewell Street Press
ISBN: 978-0-9964993-6-1
If you purchase the paperback on Amazon, don't forget to claim your free ebook by looking for the Matchbox deal further down on the right on the listings page.
"Shells had been bouncing near the ship the whole time we were coming into the beach. There was heavy machine gun fire. We were unable to get the starboard ramp down because of the heavy fire on that side. Then shells began hitting the ship."
-- Lt(jg) Coit Hendley Jr. in an article written for The Washington Times
On June 6, 1944, D-Day, Lt(jg) Coit Hendley Jr. participated in the landing at Omaha Beach in Normandy as commander of the LCI 85 (landing craft infantry) with more than 200 men on board. They ran into enemy fire that eventually led to the sinking of their ship. He wrote of his experiences in published articles as well as in nine unpublished articles written soon after the event in 1944. He saved these papers along with other documents from that time: orders, rosters, letters, and photos. His experiences in the war are described here and his papers presented for the first time. Together they provide a fascinating glimpse into what it must have been like in those dangerous times.
"Whenever I quote other people, it's not from my memory of 40 years ago. I spent weeks after the landings interviewing many of the 1200 officers and men attached to our 36 ships. It's all in my files." - Coit Hendley Jr.
Pete Hendley is the son of Coit Hendley Jr. and is the 2019 Single Image Spotlight Winner for Travel photography in Black And White Magazine. He is also the author of The World Is Beautiful: Two Years On The Road (Photos). He has traveled extensively and lived in Australia, Guatemala and Mexico and is a graduate of the University of Iowa Writers' Workshop. He makes his home in Iowa City, Iowa.

As seen in the National Geographic episode "Drain The Oceans: Secrets of D-Day", June 2019 from the series "Drain the Oceans"," marking the 75th anniversary of D-Day.
"Drain The Oceans: Secrets of D-Day," airs on June 3, 6, 11 and 12. Multiple showings! Check your listings!
Published by Yewell Street Press at yewellstreetpress.com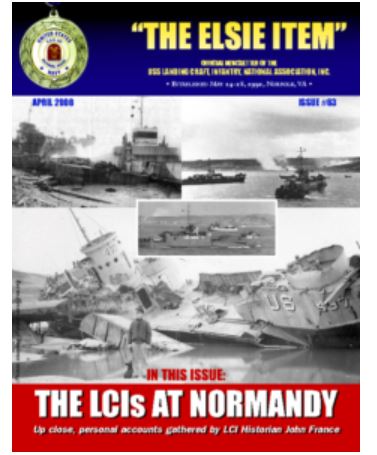 As written about in the LCI Association newsletter Elsie Item Issue #105 June 2019.
"LCI 85: The Four-Leaf Clover" by John France is available at usslci.org